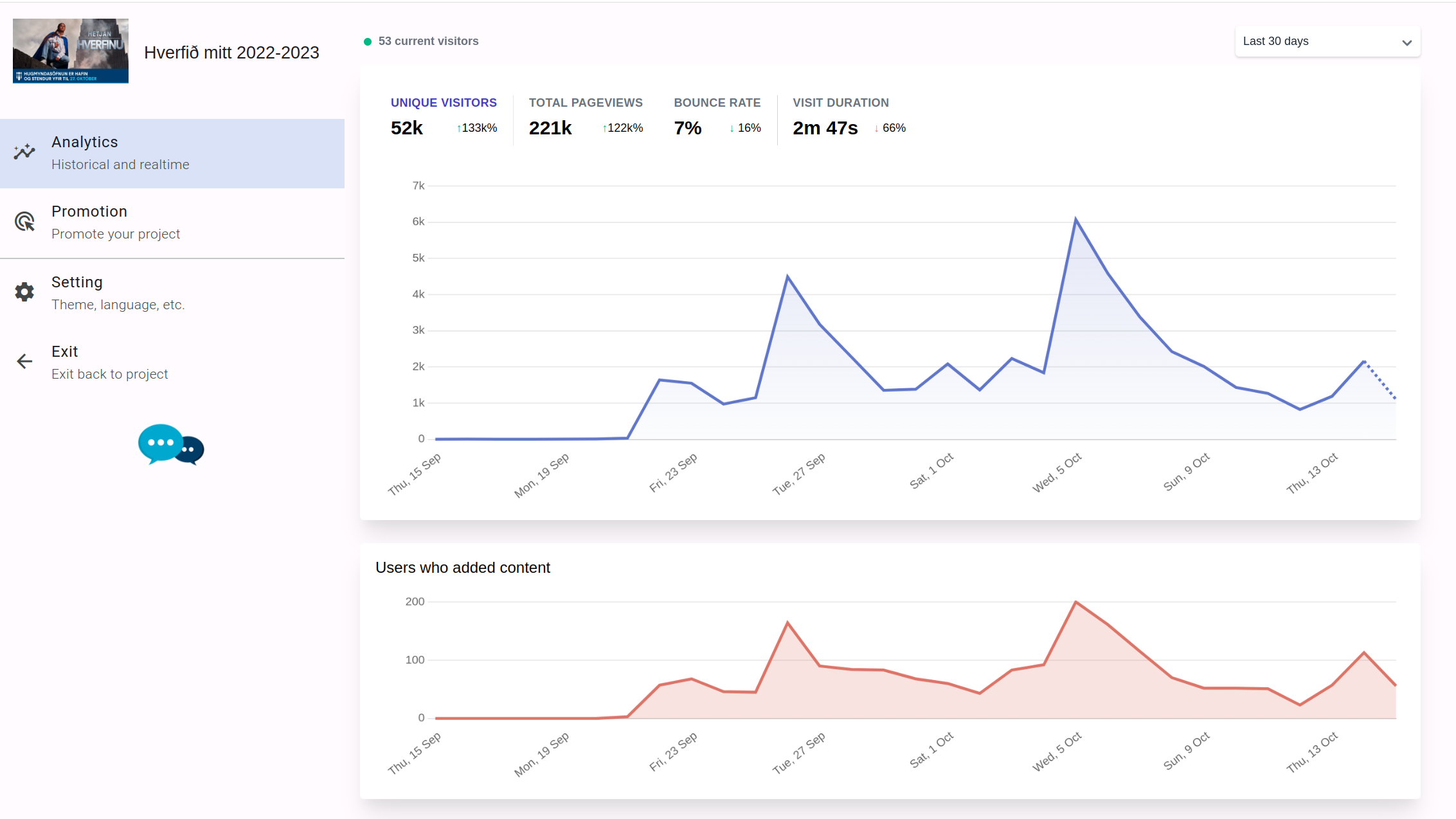 16 Oct

New analytics and promotion tool

We have released a major new feature for Your Priorities, a built-in Analytics and Promotions tool.

Given Your Priorities' nature as a citizen engagement platform, analytics about how citizens use the platform and how promotional campaigns perform have always been critically important.

One of the most challenging aspects of engaging citizens is figuring out the most effective methods to inform them about those opportunities to participate – the more citizens participate, the better the results will be.

For years, our partners and we have used Google Analytics, enabling us to understand how citizens use the platform. It allows the Citizens Foundation to understand what's working and not working effectively. Google Analytics data has been one of the critical inputs into constant software development iterations over the past 14 years for all our platforms.

There is now a general concern in society about big-tech data collection, and we have been looking out for alternatives. In recent years we've also seen Google Analytics blocked by more and more citizens using extensions or browsers, rendering them invisible to analytics. And recently, some countries like Denmark are banning Google Analytics outright.

Our solution is based on the amazing Plausible Analytics open-source project and has useful analytics features like goal completion tracking and advanced filtering.

Explore more below.
Examples Analytics Features Screens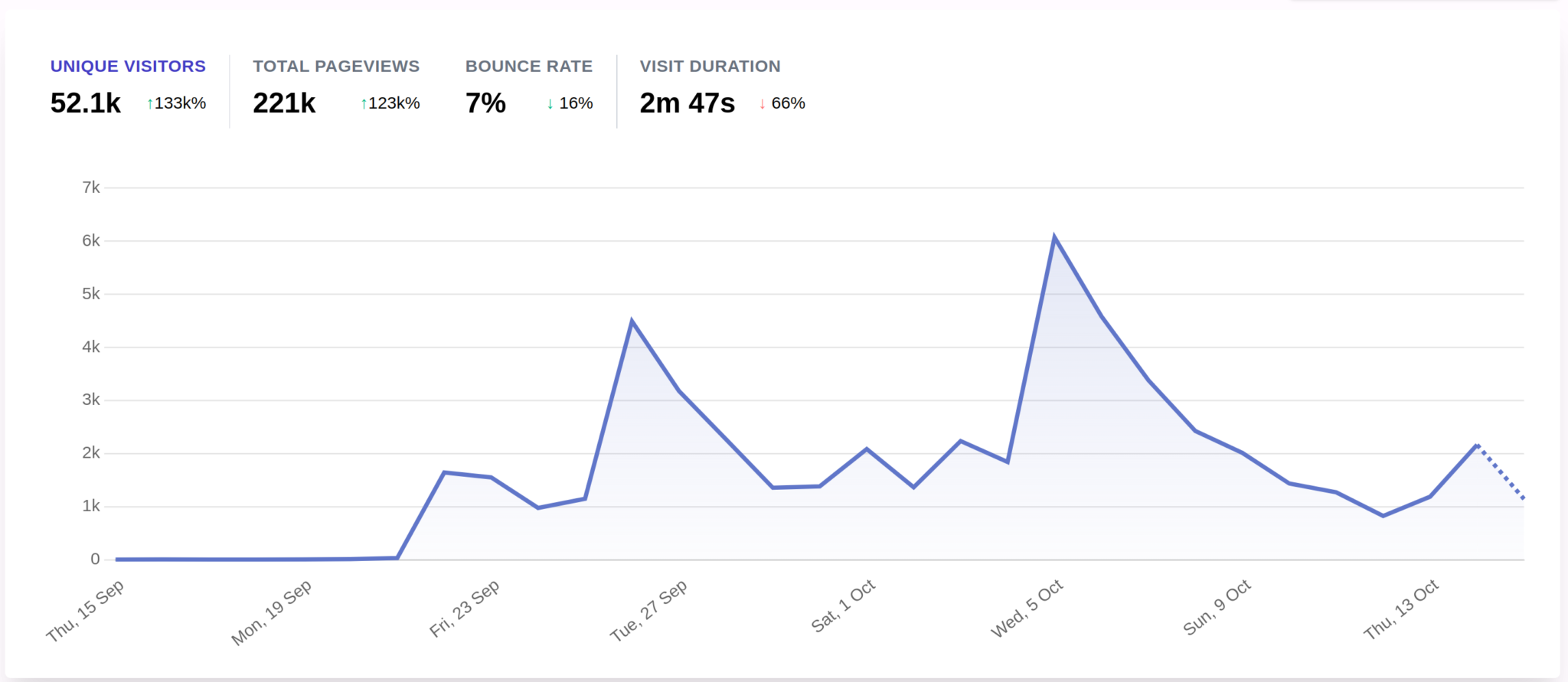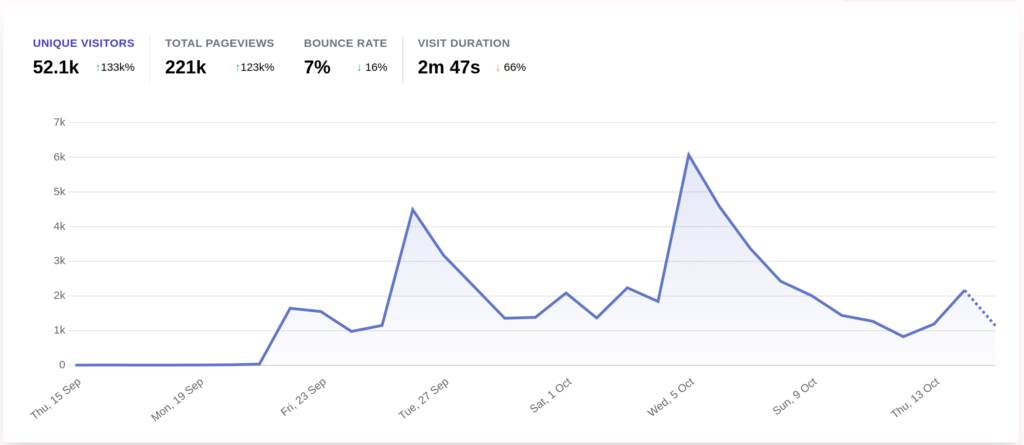 Key data accessible in a simple format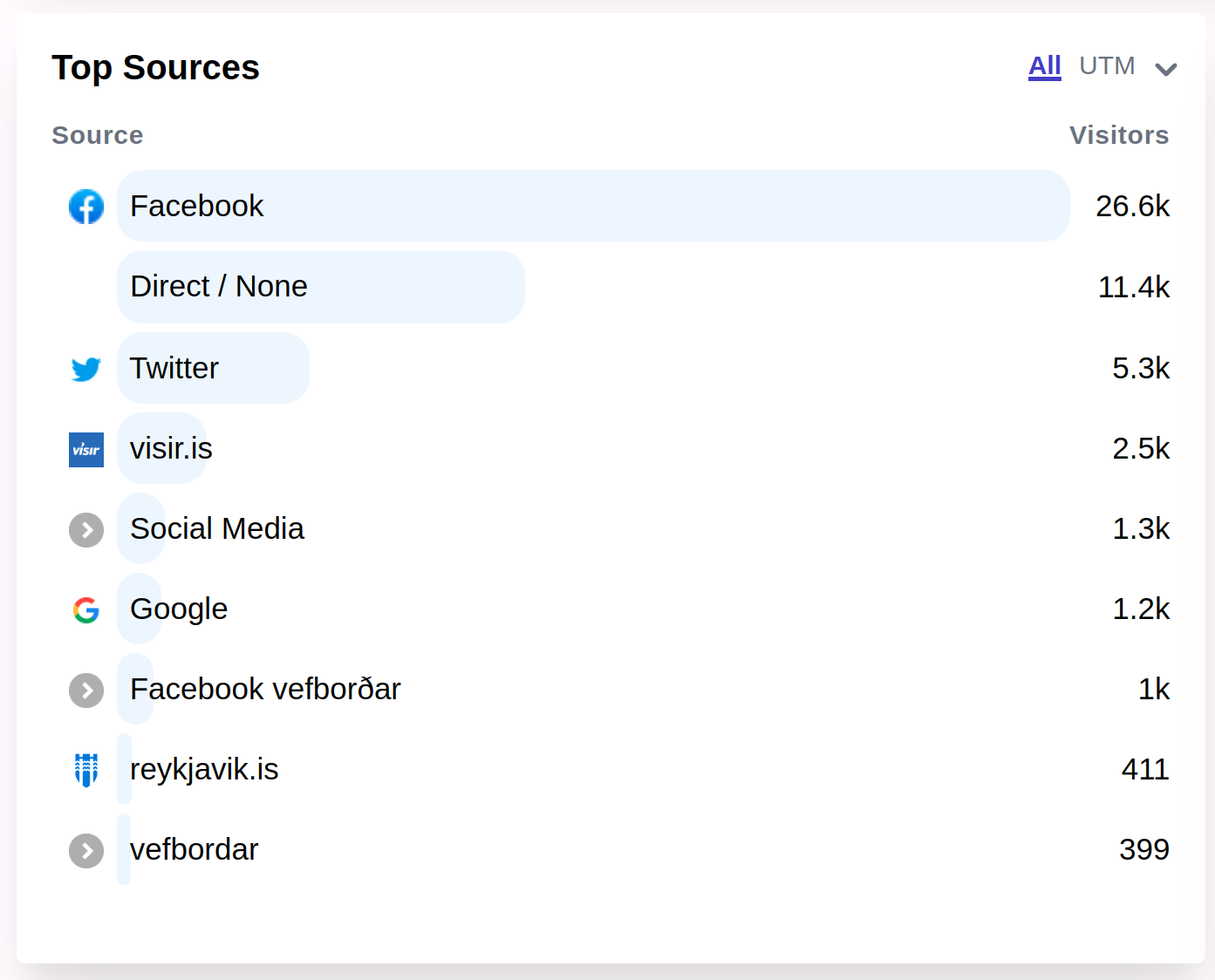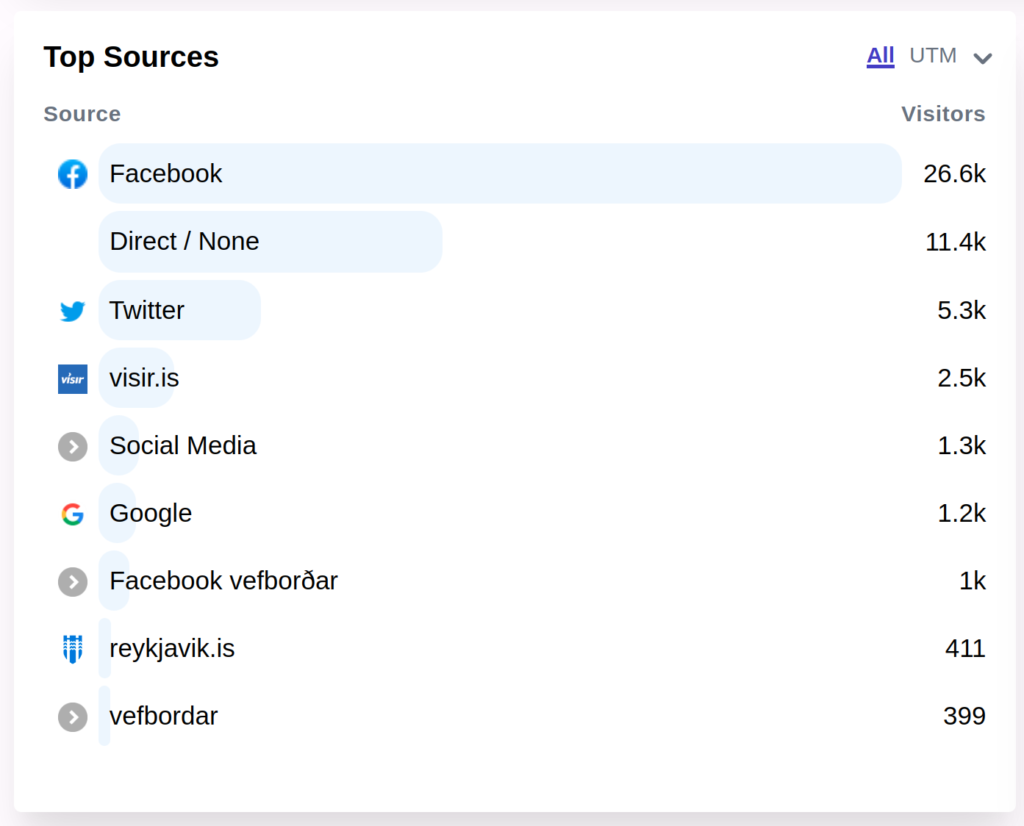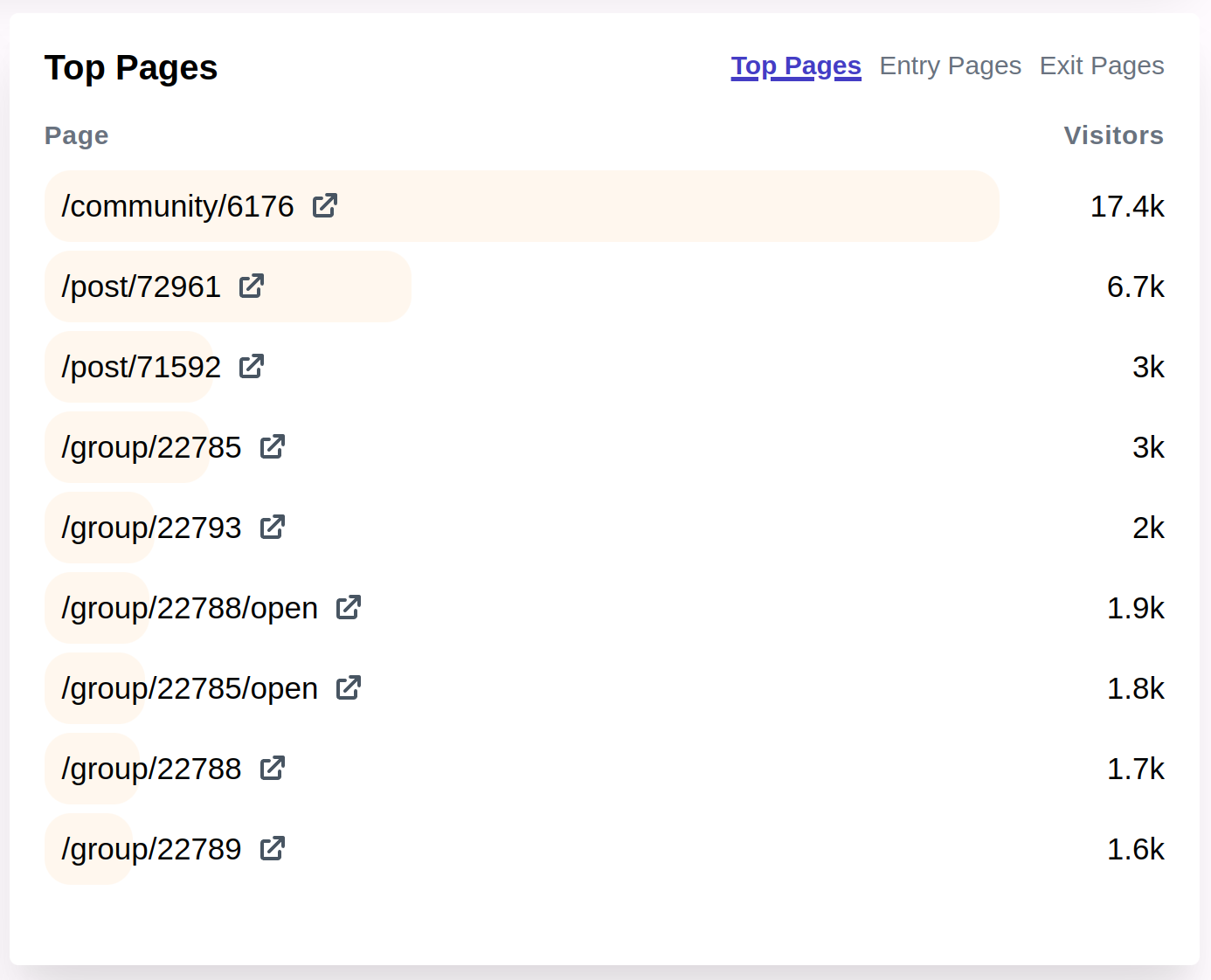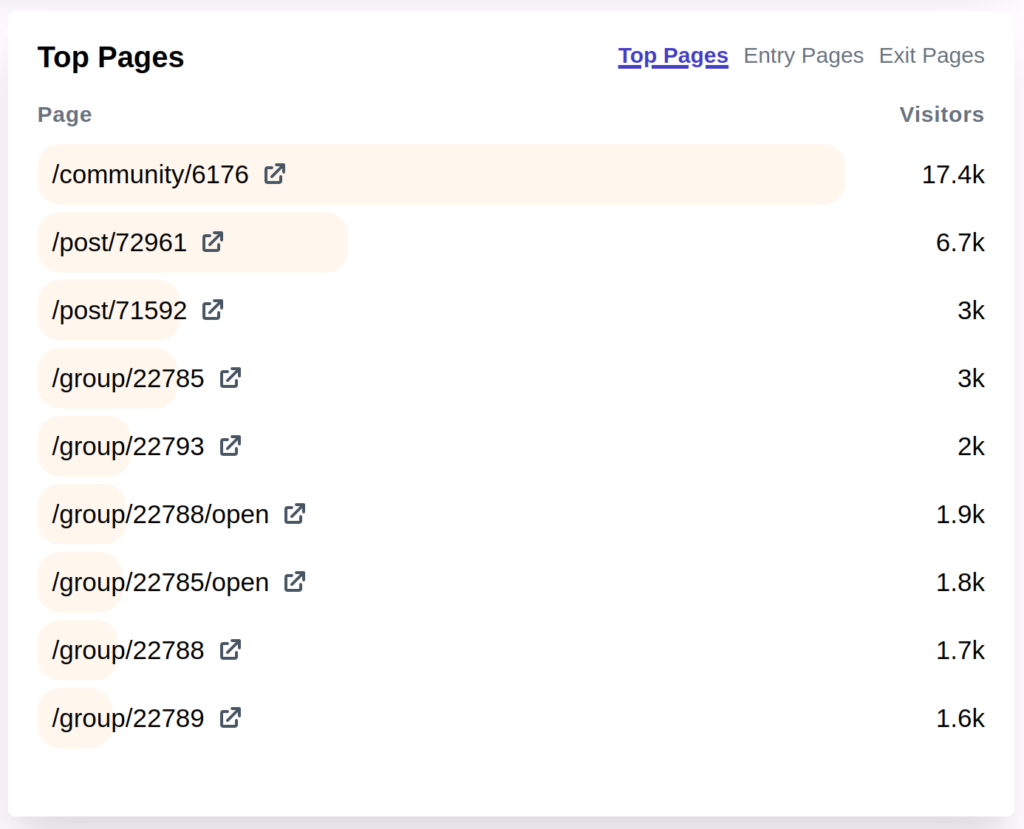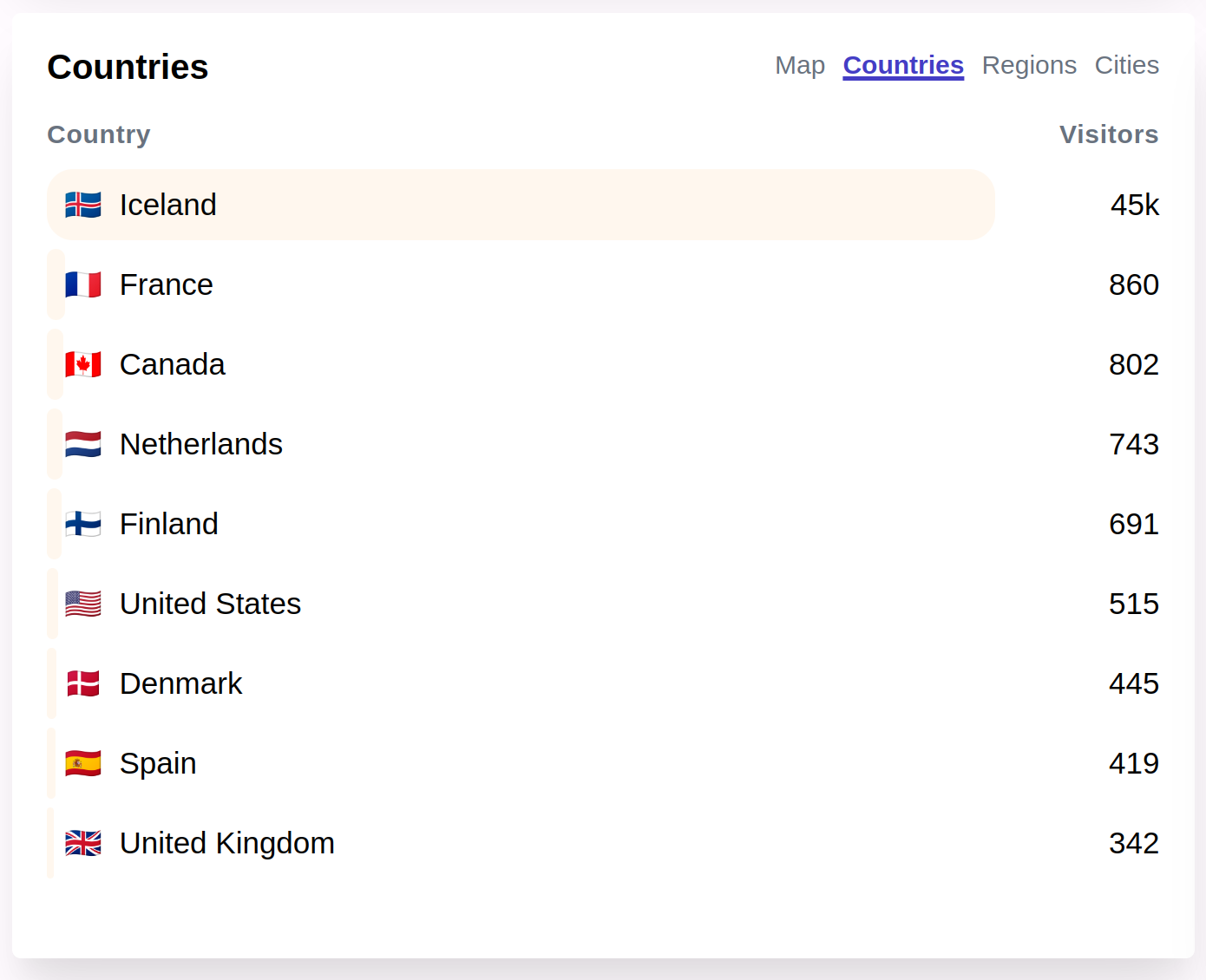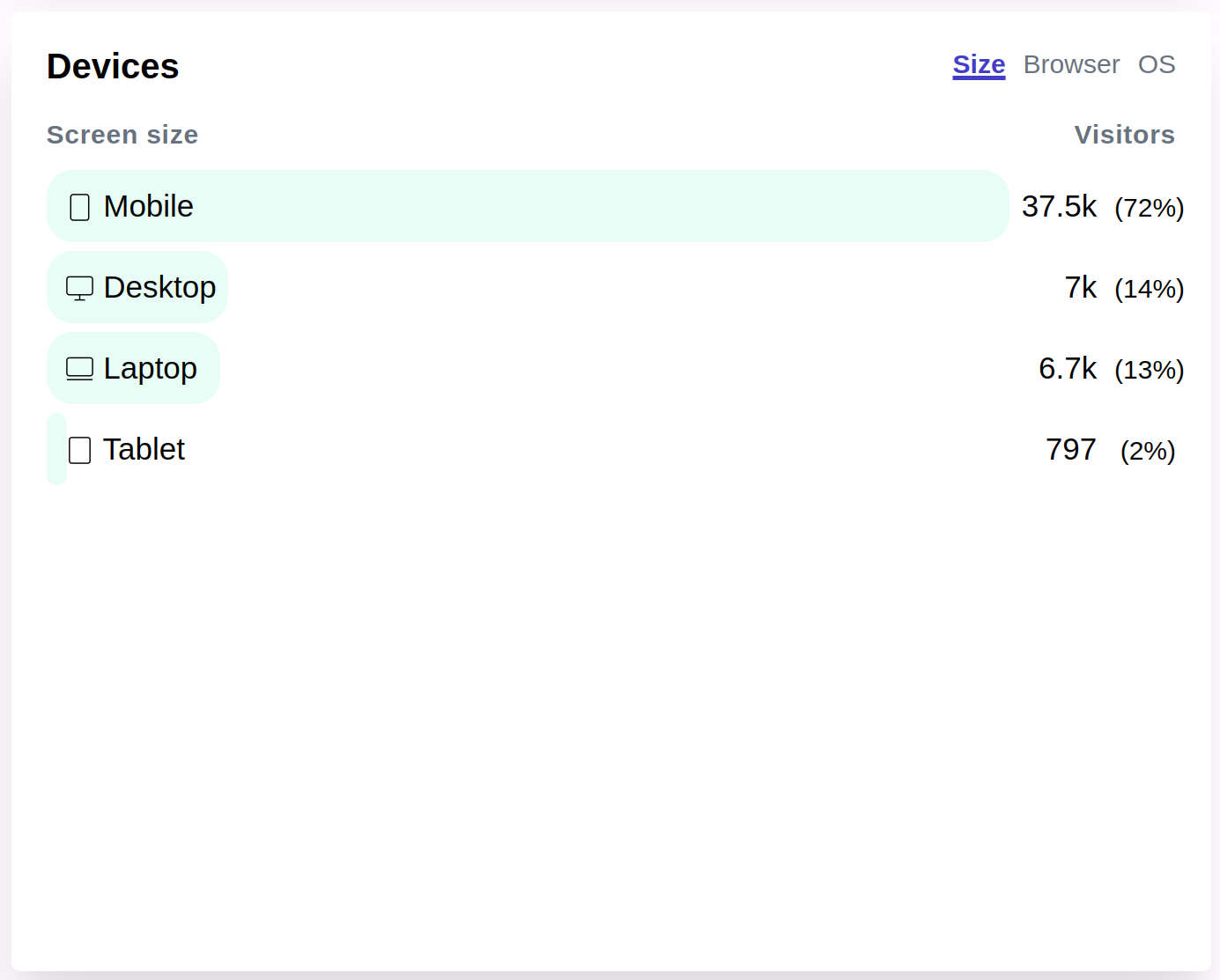 Integrating Plausible Analytics into Your Priorities
We reviewed several open-source analytics solutions and decided to integrate the Plausible Analytics solution into the Your Priorities platform.
One of the key elements for choosing Plausible was its modern and intuitive analytics dashboard user interface. The dashboard software is written in React, which made it easy for us to port the dashboard React components to our Lit standards-based Web Components development environment. Now we can create dashboard components designed explicitly for Your Priorities but still easily keep up to date with the main Plausible Analytics open source project.
Each Your Priorities Domains, Communities, and Groups have those new tools built-in, allowing easy granular access to different projects and sub-projects. When using Your Priorities, citizens regularly share their own ideas on social media, and now they also have full access to analytics and promotion tools to promote their ideas.
With this built-in solution, all the analytics data goes exclusively through the Your Priorities website, with no connections or exposure to external analytics services or data collection. This approach ensures a 100% correct count of all events for analytics.
We still have optional support for Google Analytics Universal and GA4 Tags on the Domain level. But this new solution not only completely replaces Google Analytics, but also offers a much better solution, tightly integrated with Your Priorities and new promotional features.
Our long-term goal is to equip Your Priorities with the best analytics and promotional automation tools to help governments reach as many citizens as possible to participate. This release is just the beginning.
Your Priorities Promotion Features
The promotional tool is the first iteration of our promotional automation solution for governments. The solution enables a non-marketing professional to create and track promotions across various social media platforms and channels. It gives instructions on how to copy/paste content, and future iterations will have short videos on how to use paid-for big-tech ad platforms.
Create a promotion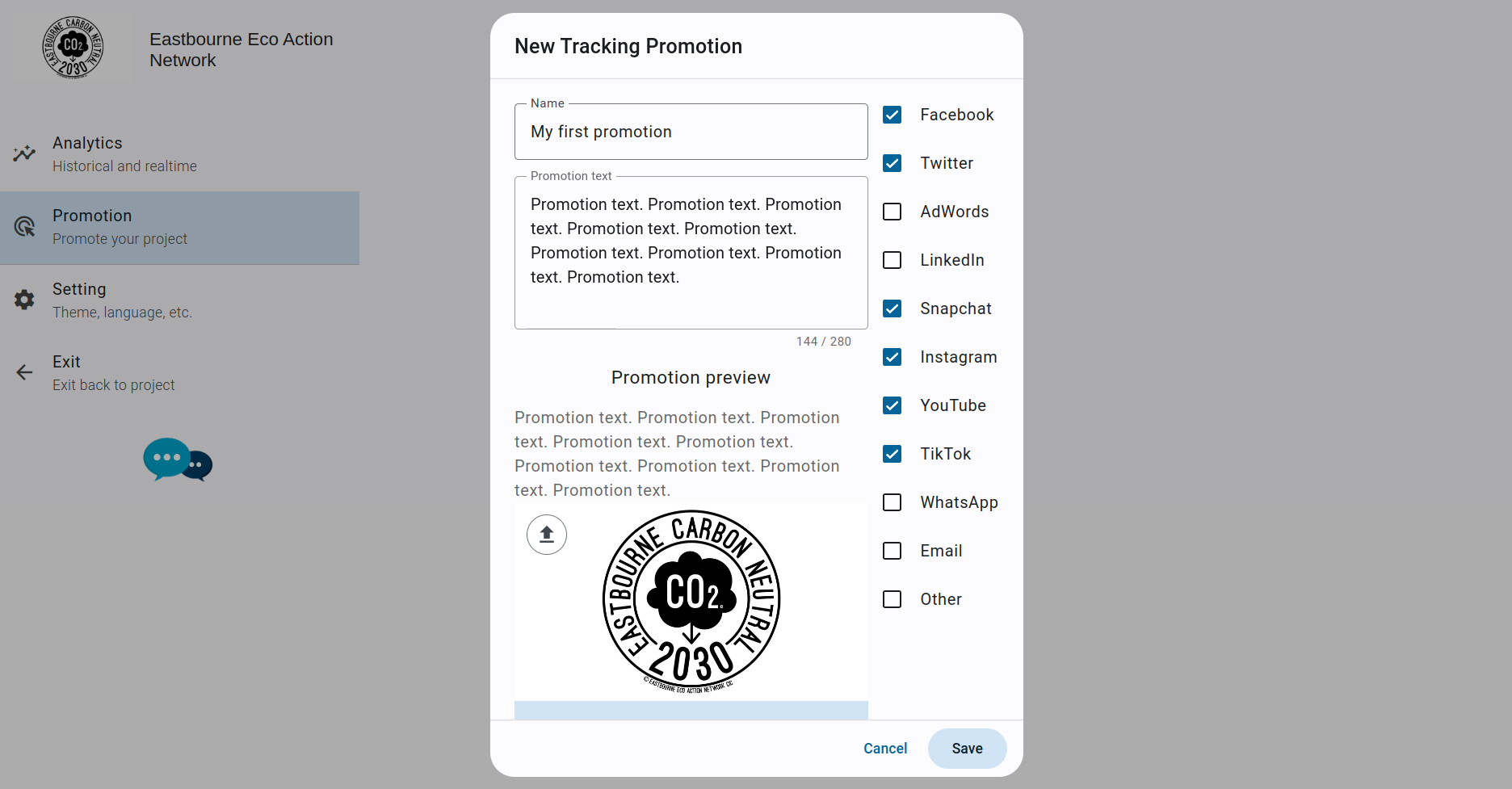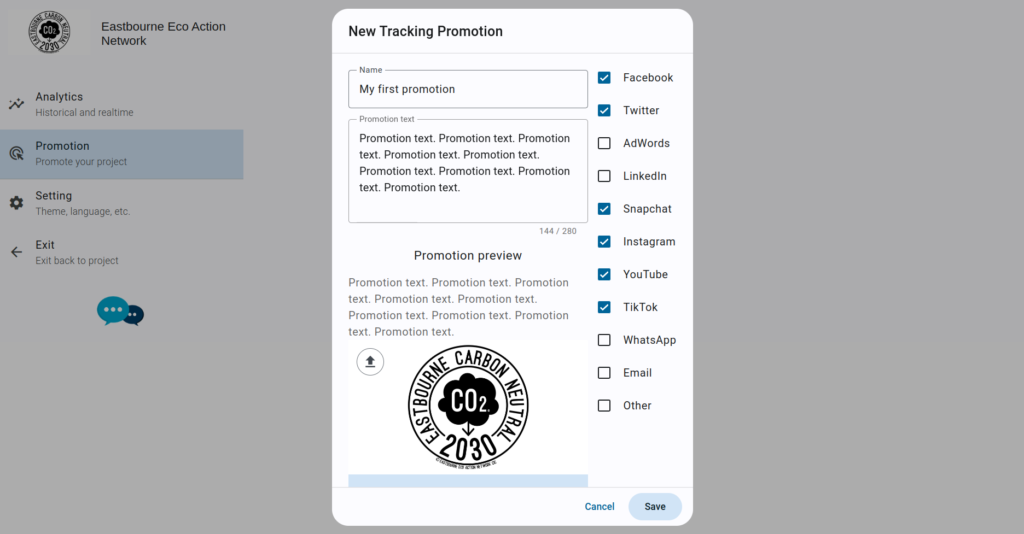 Activate a promotion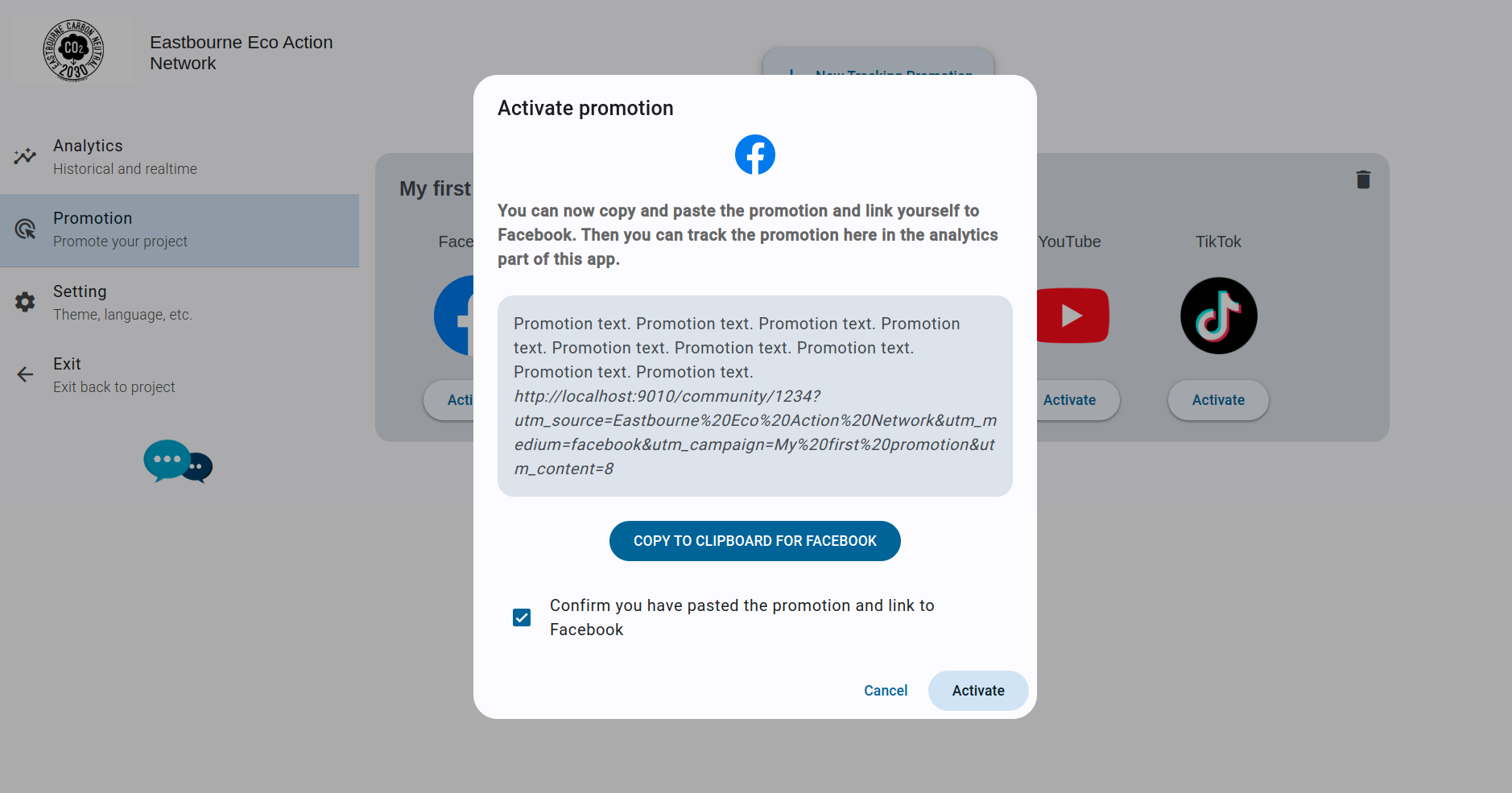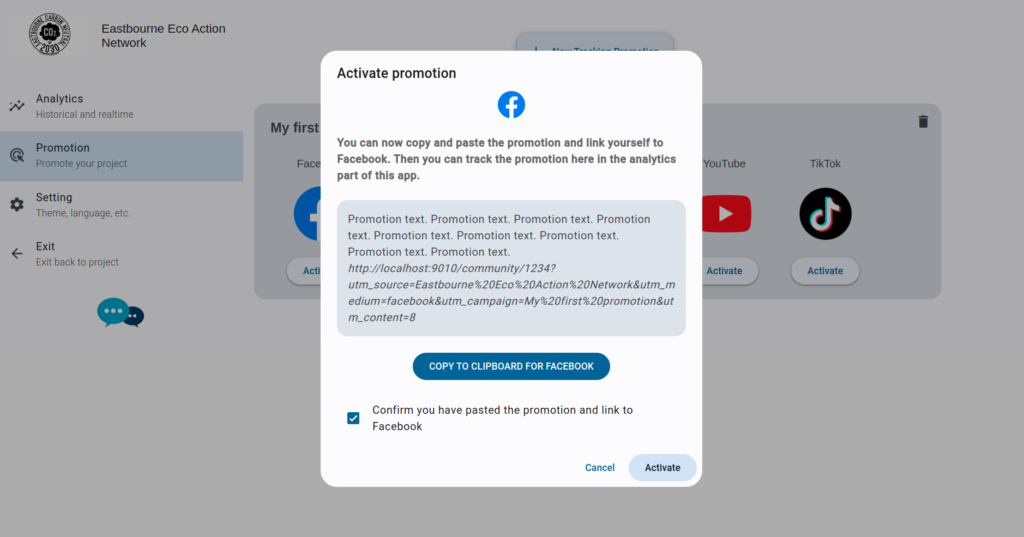 Mass Promotion Emails (Coming soon)
During a recent Democracy Lab hackathon, a small but excellent team of volunteers helped us prototype a new integrated mass promotion email solution for sending themed custom emails to citizens who have taken part in previous deliberations. This new feature will go live later this year for all our our projects.